Villa Close To The Sea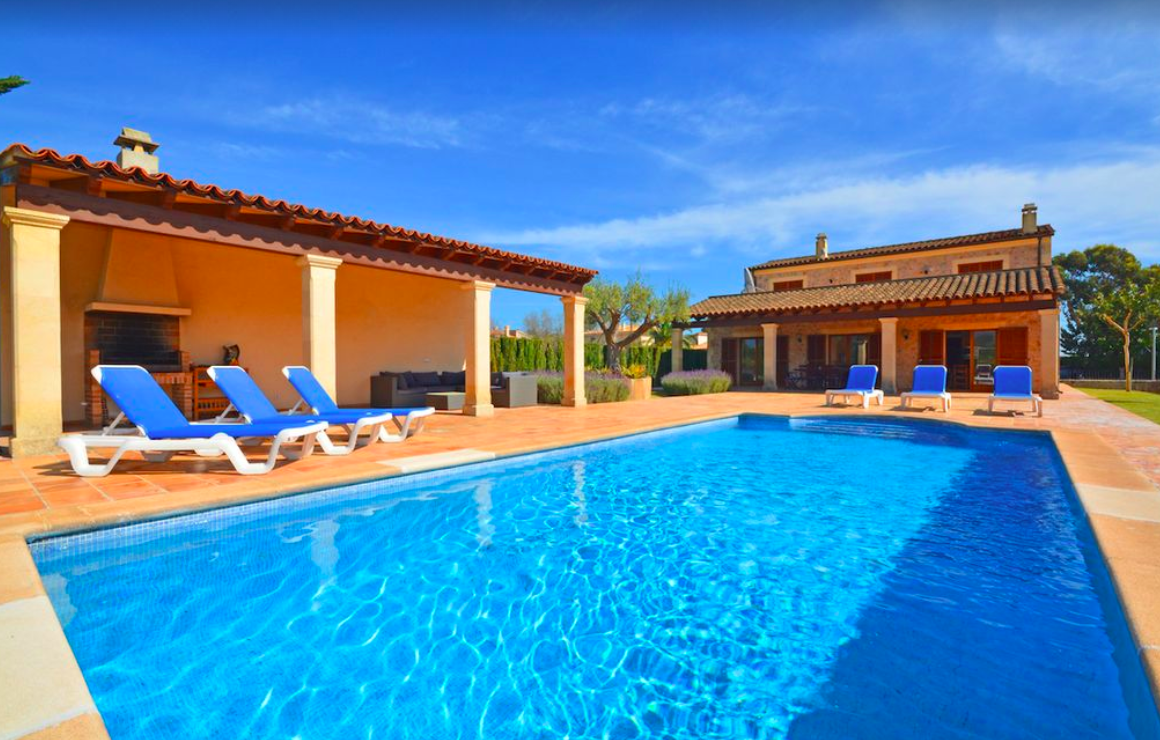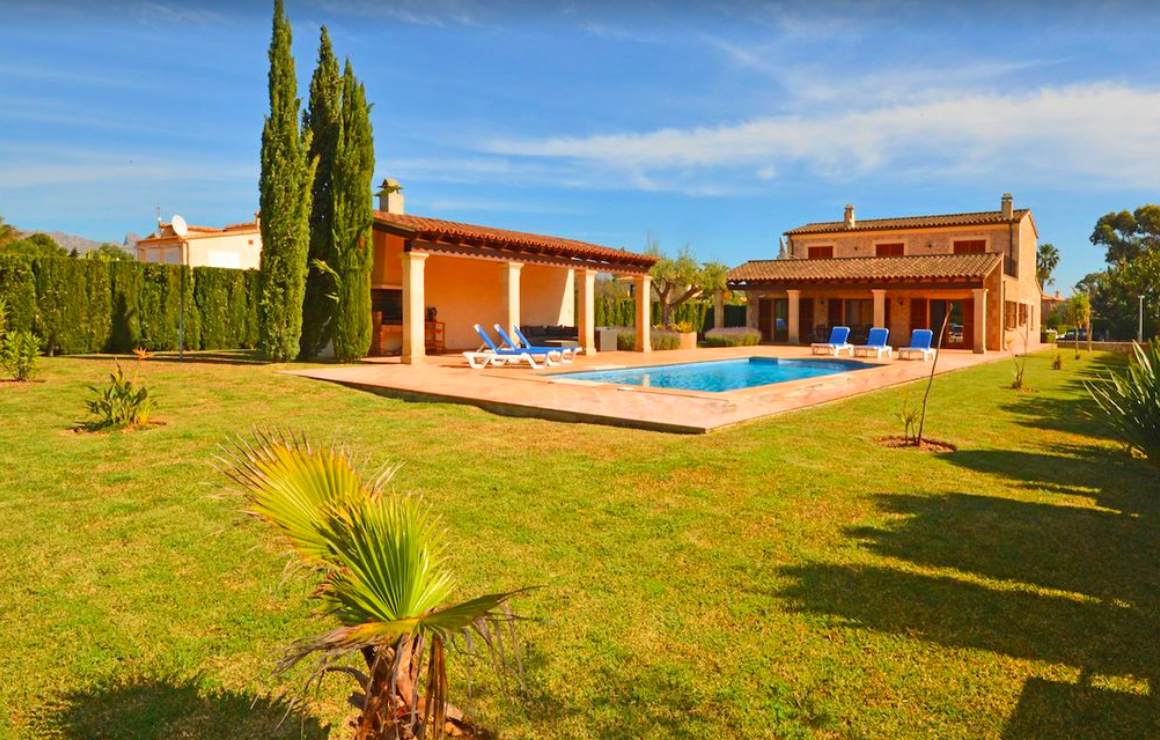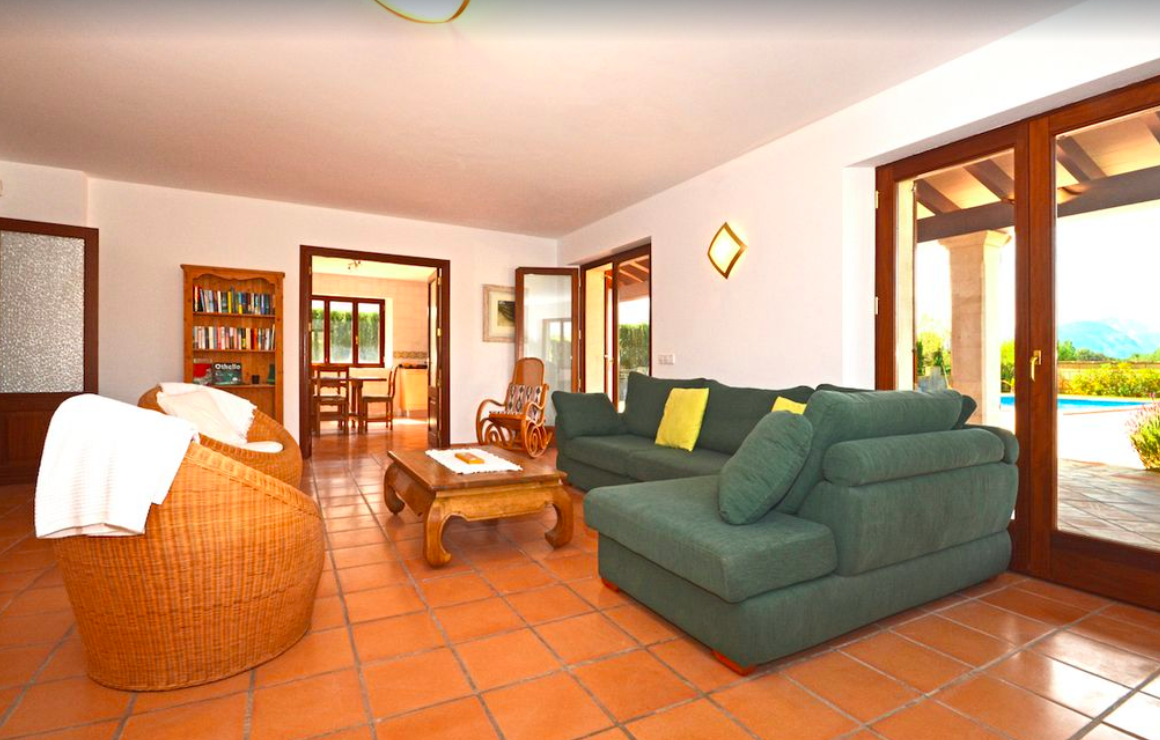 Located in the residential area of Llenaire, this Mallorcan style house enjoys all the modern facilities for a relaxing time in Puerto Pollensa. Ideally located for a Golf, Cycling or familiy Beach holiday!
Villa Can Bonafe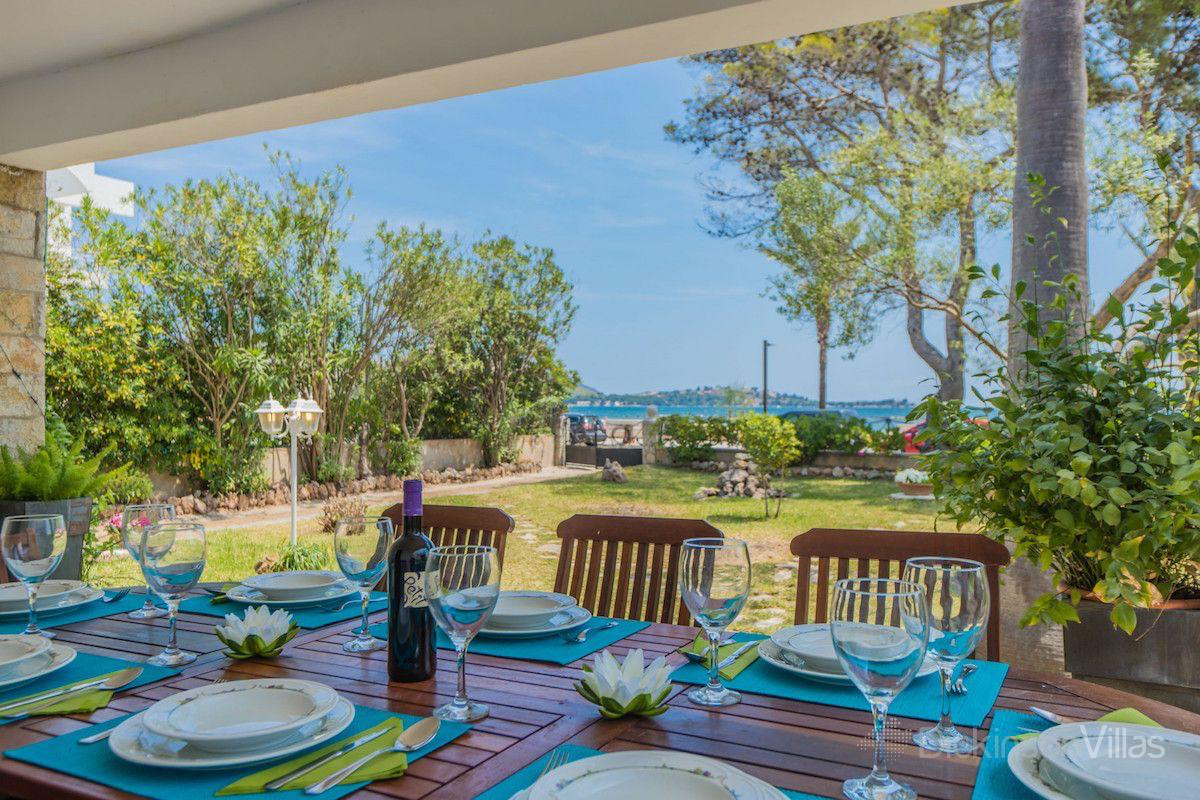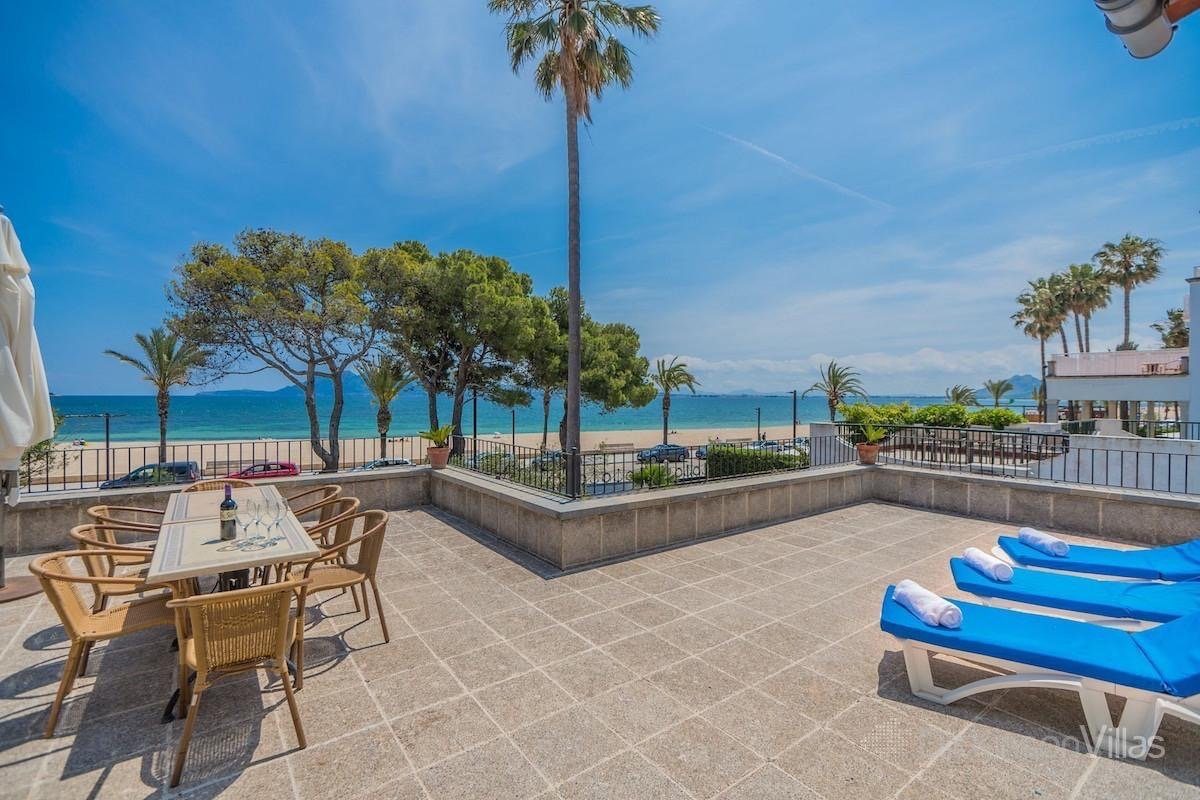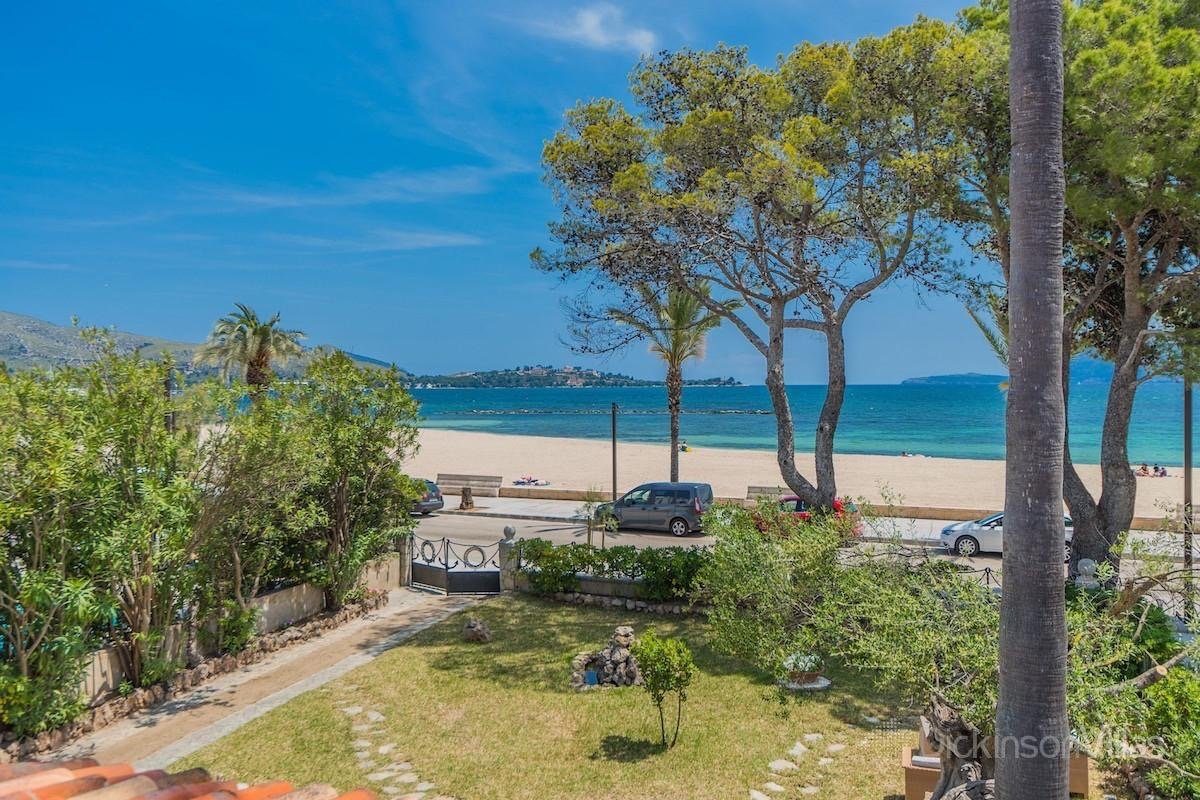 Villa Can Bonafe is a charming and spacious beachfront property located just 30 meters in front of one of the beaches of Puerto Pollensa. You will enjoy the two fantastic sunny terraces and a green garden overlooking the sea and the beach. It is one of the few and exclusive villas to rent by the sea front, with space for 10 people.
The house is ideally situated for every type of visitor because there are a huge number of activities within a short walk or drive from the house including:
1. Water sports: With in 15 minutes level walk along the seafront there is the highly regarded port hosting many important boats from all over the med. Sailing lessons, hobby hire , kayak , waterskiing and boat hire are all available .
Sail & Surf Pollensa : http://www.sailsurf.de
Tudor Dawn Charters : http://www.tudordawnyachtcharters.com
Robinson Boat Trip : https://www.robinsonboat.com
2. Golf: Within a 15 minute drive there are 2 stunning golf courses.
Golf Alcanada : https://www.golf-alcanada.com/en/
Golf Pollensa : https://golfpollensa.com/
3. Restaurants: as well as many cafes and restaurants along the seafront within 15 mins walk of the House there are highly regarded restaurants a short drive away:
Restaurant Bistro de jardin : http://bistrodeljardin.com/web/index-en.php?gclid=EAIaIQobChMIpKXynZf25gIVB9reCh0lSQD9EAAYAiAAEgKmOfD_BwE
Restaurant La Terraza : https://laterrazaalcanada.com/?utm_source=tripadvisor&utm_medium=referral
Restaurant Ca'l Patro : https://es.restaurantguru.com/Cal-Patro-Cala-Sant-Vicenc
Restaurant Alcanada Golf : http://casagallegamallorca.com/ca/restaurant-golf-alcanada/
4. Spa: stunning modern spa in a historic winery Manor House: Hotel & Spa Son Brull : https://sonbrull.com/en/
Massages and treatments are available in an idyllic setting.
5. Wine tasting :
Bodega Can Vidalet : https://www.canvidalet.com/en/
Bodega Xaloc: https://www.bodegasxaloc.com
Bodega Axartell : https://www.canaxartell.com
Bodega Vynes Mortix : http://www.vinyesmortitx.com
6. Hiking: Puerto Pollensa leads directly into the Cala Boquer and nature reserves famous for hiking . Immediately outside the house there is a level promenade next to the beach which stretches approximately 10k so ideal for keen walkers, joggers, roller blades or scooters. For older visitors it provides a perfect well lit level walk leading to the town (10 minutes) .
7. Biking: the cycle lane starts outside the house and links to the highly regarded mountain ranges of Majorca.
Pollensa Cycling : https://www.pollensacycling.com
Rent March : https://rentmarch.com
Mallorca Bike Hire : https://www.mallorcabikehire.com
8. Indoor heated Swimming, Tennis , squash and paddle at local sports club :
Port de Pollença Tennis Club : http://www.ajpollenca.net/ca/content/port-de-pollença-tennis-club
Eu Moll Tennis Club : https://www.seemallorca.com/activities/tennis/eu-moll-tennis-club
Tenis Alcudia : http://www.alcudiamallorca.com/es/que-ver/que-hacer/deportes-terrestres/tenis/
All modern high quality facilities in Puerto Pollensa only a 5 minute drive away with free parking and easy booking terms. Lessons are readily available. For family fun , there is an aqua Park in Puerto Alcudia with slides and inflatables 8 minutes drive from the house.
Hidro Park Alcudia: http://www.hidroparkalcudia.com
9. The beach and sea immediately outside the house has idyllic yellow sand and turquoise calm waters ideal for families. The beach is also monitored by life guards during the high season and has sensibly priced easy cafes and facilities.
La Roca Chiringuito: https://es.restaurantguru.com/La-Roca-Port-de-Pollenca
Embat Chiringuito : http://www.grupembat.com/?utm_source=tripadvisor&utm_medium=referral
10. Kite surfing:
5km along the beach is a more windy section of beach which is highly regarded for kite surfing
Mallorca Kiteboarding & Sup : https://www.mallorcakiteboarding.com/es/
Pura Vida: https://www.puravidamallorca.com
Kitesurfing Club Mallorca : https://kitesurfingmallorca.com/clases-de-kitesurf-en-pollensa-mallorca/
11. Young families: the garden is fully enclosed ( and gated) and suitable for young families. The beach outside the house has a variety of modern play parks all within a short walk ideal for 2-7 years of age . 3 restaurants within a short walk have soft play areas and or bouncy castles . This location is very well suited for young families and the hosts have 2 young children who visit 3 times per year.
12. Shopping and cinema : within 30minutes drive there is a huge shopping centre hosting hundreds of outlet shops including most designer labels at sensible prices.
Mallorca Fashion Outlet : https://mallorcafashionoutlet.com
There ate also large variety of restaurants and cafes for all tastes. Plus there are children's parks, soft play and merry go rounds at the commercial centre.
13. Cinema: modern multi screen at commercial centre.
Cinesa Festival Park : https://www.cinesa.es/Cines/Festival-Park
14. Nature and bird watching :
Within a 15 minute drive is the nationally important Albufera bird sanctuary where visitors can see important variety of Mediterranean and migrating birds.
Parque Nacional de S'Albufera : https://www.tripadvisor.es/Attraction_Review-g580284-d190705-Reviews-Parque_Natural_S_Albufera_de_Mallorca-Ca_n_Picafort_Majorca_Balearic_Islands.html
15. Horse riding :
At Rancho Grande Park : https://www.ranchograndemallorca.com/es/
Riders of all standards can take horses to ride in unspoiled countryside and along deserted sandy beaches to swim in the sea. The ranch includes many animals, soft play, bouncy castle and traditional food so is Ideal for families of all ages.
16. Sun downers:
Don't miss the sun set from the terrace outside the Illa D'or Hotel which is a 20 minutes walk away.
Hotel Illa D'or : http://www.hotelillador.com
17. Night life:
There are a variety of bars along the beach front including Norai which plays music until 2 at weekends and hosts a pool table, Mombasa Cafe, Lemon Lounge Bar and Disco Chivas for young people. Most evening in the main season there is live music somewhere in Puerto Pollensa.
18. Afternoon tea:
Don't miss afternoon tea on the raised terrace at Llenaire Hotel : https://hotelllenaire.com/en/ only 3 minutes drive away and enjoy sea and country side views across the bay of Pollensa . And Cappuccino Grand Cafe : https://www.cappuccinograndcafe.es
19. Culture and architecture:
Old Pollensa town : http://www.pollensa.com/en/ and old Alcudia town: http://www.alcudiamallorca.com/en/home/ ( both an easy 10minute drive away) are perfectly preserved medieval market towns with stunning rural architecture, cobbled streets and artisan shops and restaurants. Both host weekly markets with commodities from all over the island.
20. Day trips:
Palma: palma can be reached by car within 45 minute, bus within 1 hour or taxi for circa 50 euros each way. With a population of circa 500,000 and an international reputation most visitors will find what they want in palma: historic buildings, international quality restaurants , shops , galleries ,museums and much more :
https://www.tripadvisor.es/Tourism-g187463-Palma_de_Mallorca_Majorca_Balearic_Islands-Vacations.html
The north west coast : the north west costs can be reached by car within 1 hour and most enjoy visiting the former home if Frederic Chopin at Valldemossa : http://www.celdadechopin.es
where he composed many important pieces, the home and museum of Robert Graves : http://www.lacasaderobertgraves.org/en/ can also be visited and great restaurants & spas including La Residencia : https://www.belmond.com/hotels/europe/mallorca/deia/belmond-la-residencia/?utm_source=local_search&utm_medium=link&utm_campaign=google_business
The hosts: : this house is run by a professional holiday letting agency with 30 years experience in Puerto Pollensa. The hosts are English but can speak Spanish, English and French so please do not hesitate to request an alternative language if it helps any enquiry. In our opinion the house has the facilities you would expect on a Uk holiday house . The hosts are happy to be called directly at any time and assist with any advice or information .
THE VINCCI CLUB
Paseo del Borne 17,
2nd Floor 07012 Palma de Mallorca
Phone: +34 971 723 229